How to Send a Birthday Card on Facebook for Free
2016/11/04 | By AmoLink |
Design Inspiration, Design Trends
Summary: Sending Facebook birthday cards containing greeting messages will make your loved ones happy and moved. AmoLink, which integrates music, video, sound and animations into the birthday card design, can send free birthday cards for Facebook. It will be really vivid and lively.
A Dominant Way to Send birthday wishes for Facebook
In this modern time, we can not live without mobile phones, Internet and social media. We almost make use of them to do everything we want, such as sending our greeting messages by electronic cards in the Internet, including birthday greetings, which is a fast and simple way to show our affections for our loved ones.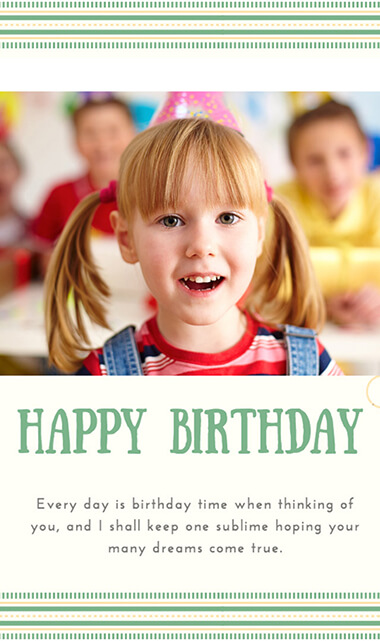 The world's biggest social network Facebook has been making every effort to increase its numbers of users by its function of birthday celebrations since the early days of the social network. If friends of us are about to have their birthdays, Facebook will be so considerate that it pushes birthday notifications to us. And we will send our birthday greetings to our friends after receiving those Facebook birthday notifications. Facebook birthday greetings are some of the most popular types of posts for its 1.6 billion users. In fact, more than 100 million Facebook birthday greetings were sent in January alone, up 60 percent from the same time two years ago.
The Decreasing Passion for Happy Birthday Posts for Facebook
However, the happy birthday posts for Facebook offer the same simple and repetitive message: "Happy Birthday!" And sometimes we even don't bother to type out a full birthday wish. Instead, we shorten it to a mere "HBD". The sentiment would definitely be reduced by just a "HBD" and the people who receive the "HBD" of birthday greeting will definitely be upset and unsatisfied.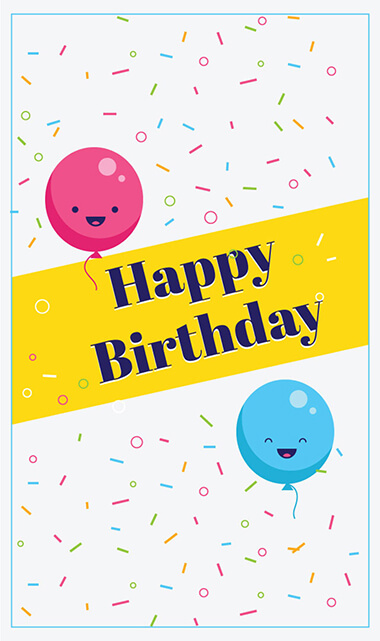 There's no mystery as to why Menlo Park, California-based Facebook is introducing the new "birthday video cam" function that lets you record a video message to your close friends. Facebook's Birthday Cam feature encourages people send their birthday wishes for Facebook by recording videos with its new Birthday Cam feature instead of generic "Happy Birthday!" text posts. Perhaps this new creative feature can breathe some new life into one of Facebook's oldest rituals.
The Steps to Send Free Birthday Cards for Facebook with AmoLink
Recording videos is such a good way to say happy birthday on Facebook to your friends. Making a video birthday card to your friend can really make him/her feel warm and special. AmoLink, an easy-to-use and free online birthday card maker, can help you to create a video birthday card online and send it to your friend. So why should you choose AmoLink? What are the differences between AmoLink cards and traditional electronic cards? AmoLink integrates texts, pictures, music and video into our birthday cards and provides birthday songs of different types. You can even record your birthday greetings for Facebook by your own voice. AmoLink offers various layouts and free birthday card templates for you to choose. You are your own designer.
So how can you create birthday cards for Facebook with AmoLink? Now, let's make birthday card online with a video.
(1) Choosing a layout
Once you start, you are given an initial blank page. There are three ways to start editing a new page, by choosing from a layout, a grid or a background. Here is the creation page. At left-hand navigation sidebar, there are many fabulous happy birthday greetings layouts for you. You can choose a happy birthday layout by drag/click your fond layout into the editing board.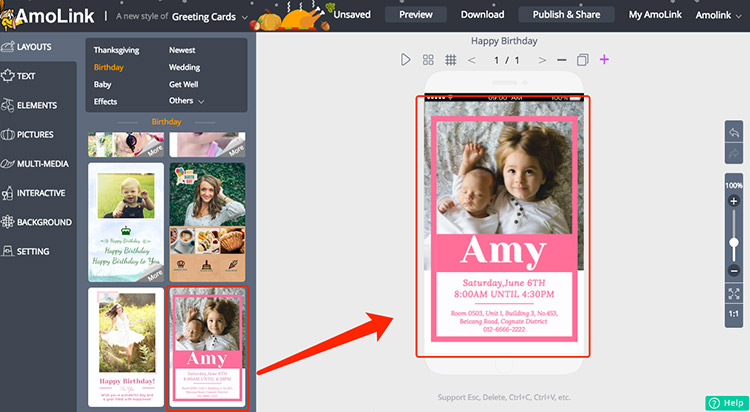 (2) Uploading your pictures
To make your birthday card, you should replace the picture with your own. Before you start the upload process, remember to log in first. Then you can upload your photos from your computer. After the upload is finished, the uploaded pictures can be found at My Pictures. You can click/drag them to the editing area. The picture will adjust its size to suit the frame automatically. A frame can contain multiple pictures.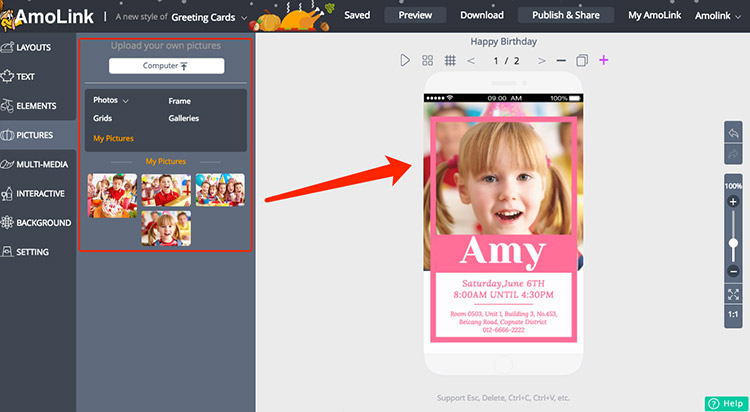 (3) Adding your video
You can click the Multi-media button to add your video or even record the birthday greeting by recording your own voice.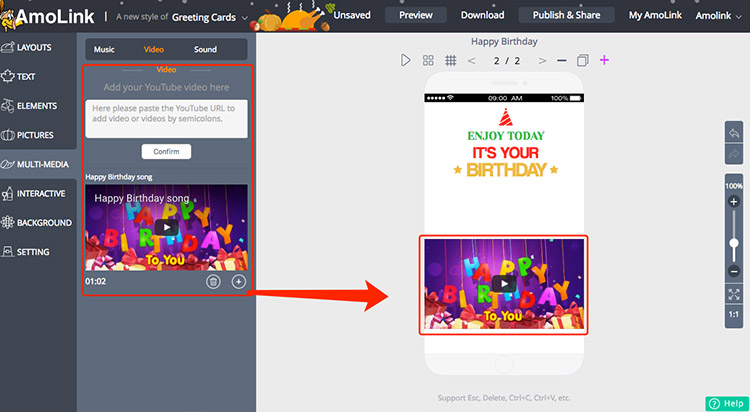 (4) Adding background music
You should click the Multi-media button to upload your music files and choose the music you like from My Music or the Music Library, and then click the Add button to set it as the background music for the page.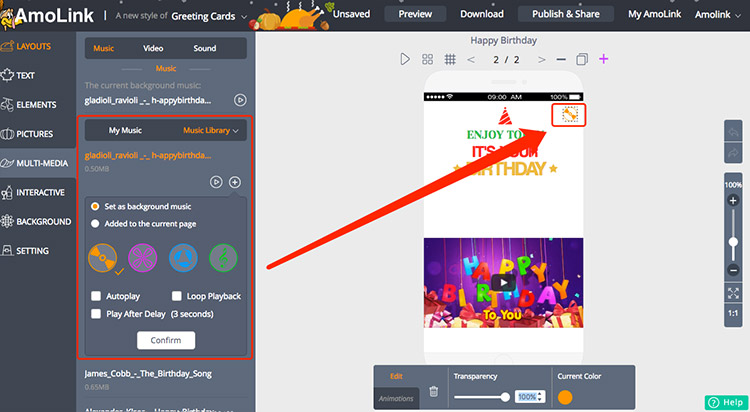 (5) Writing your texts
After that, you can select the current text by clicking it and the highlighted texts will be replaced by the birthday wishes that you type in the box.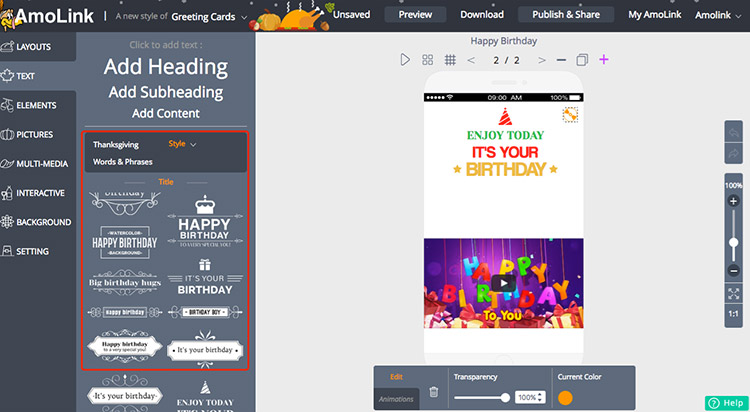 (6) Share on Facebook
After finishing birthday card designs, you can directly post your special birthday wishes for Facebook through AmoLink, just click the Pulish&Share button and then post it on your Facebook. As well, you can directly share your happy birthday greetings on your friend's timeline. Additionally, you can text a message or post to social networks, you just need to include a link in it, and he or she will browse your birthday wishes in a thunder speed.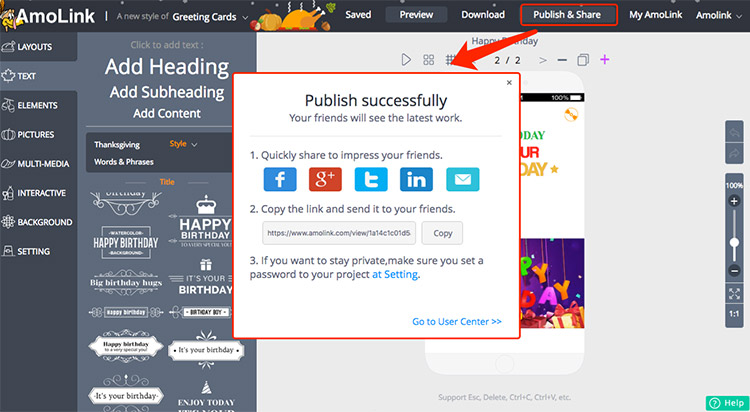 Want novel and funny video happy birthday cards for Facebook to your friends? Why not try AmoLink? It is a new and creative way for you to express your love to your friends. And this can also be a special memory for both of you and your friends.