Our Mission
Your new way to link each other!
About AmoLink
Launched in 2015, AmoLink has quickly become the go-to site for users to create any type of content, including event invitation, promotion, media post, resume, holiday cards and more online. With simple drag-and-drop editing tools, you can create eye-catching, animated works with our fun templates and share on social media just with a link. Want to see more about AmoLink, just have a free trial now!
What is AmoLink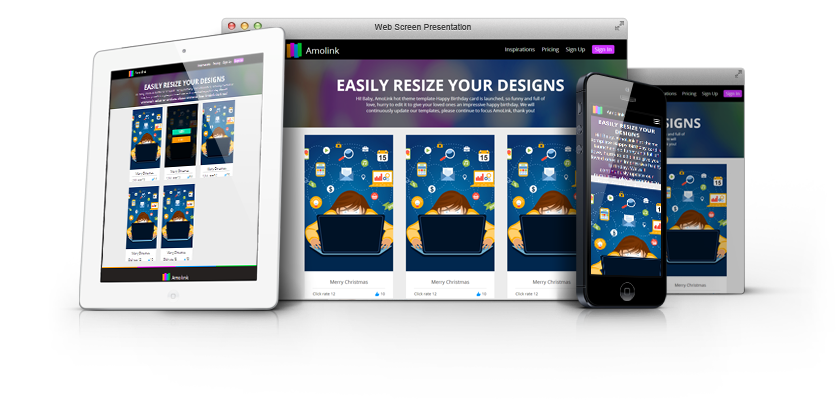 AmoLink is an online platform that features with specialized animated templates and designs, which enables users to customize and share their visual ideas online. With easy drop-and-drag editing features, you can create your design either choosing templates from our extensive library or uploading your own images that starts from scratch.
Integrating dynamic effects, music, video, record and images, users can easily achieve Html5 card creating with set of highly interactive templates, then share through a QR code or link to e-mail, Facebook, Twitter, Google Plus, catching people's eyes in thunder speed! Automatically adapt to all kinds of screen, iPhone, iPad and Android, AmoLink enables you to browse and edit your design work anytime and anywhere.
Who in AmoLink?
We are a small team of professional and dedicated. With creativity, faith, persistence, we put customers' need on priority and believe that miracle stems from invention.
With strategic foresight, Our CEO and marketing manager gather us close to go ahead.
Our professional technicians do their best to give you a perfect product experience.
Besides, creative UI and passionate editors always give us fantastic visual feast.
Furthermore, other members are included, convincing you to choose us as one prior partner.
Contact AmoLink
Customer Service:
For pre-sales support, after sales support, please contact:
Business Service: For reselling, distributing, business partnership, please contact:
Article Contributing Service:
Would you like to be an editor?
Here you can not only share with other customers your reviews and expertise for our products experience , but also industry knowledge, such as some useful or interesting tools share during your PC using in daily life; or even more you can provide some suggestions on how to improve a piece of AmoLink content.
In a word, all of your content-creation actions are very welcomed here. Depending on the popularity of content, finally we will handpick some to post on our website.
Thanks a lot for your support!