How to Create Photo Slideshow with Music Online?
2017/04/05 | By AmoLink |
Design Inspiration, Design Trends
Summary: You must have hundreds of or even thousands of photos on you smartphone. Have you considered turning those photos into a fancy slideshow with music? If so, do you believe that you can make it just in one minute even if you have no idea about design? Sounds interesting? Let's see!
Are you still searching for some photo slideshow makers to create pretty and cool New Year photo slideshow, birthday photo slideshow or even personal photo slideshows? Like you, I also want to memorize those sweet moments. So I'd like to share my favorite free online photo show maker – AmoLink. The reason that I prefer AmoLink is it has powerful features that reach all your picky design requirements. With it, you can turn your favorite photos and music into a fancy photo story with music just in one minute, even if you don't have any experience in design. Interested? Let's get started!
Step 1: Set the Tone
Enter www.amolink.com on your browser, and you can see the homepage of AmoLink. Choose a theme to start. For tapping on each icon, you'll enter to template pages with different themes.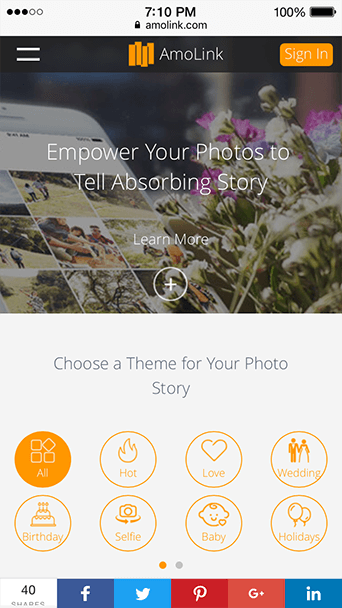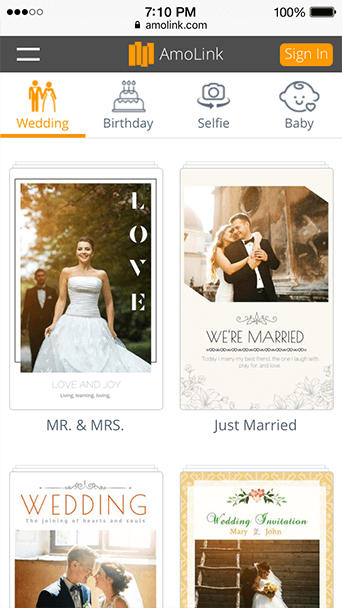 I would like to take the wedding template as an example, so I just pick the first one.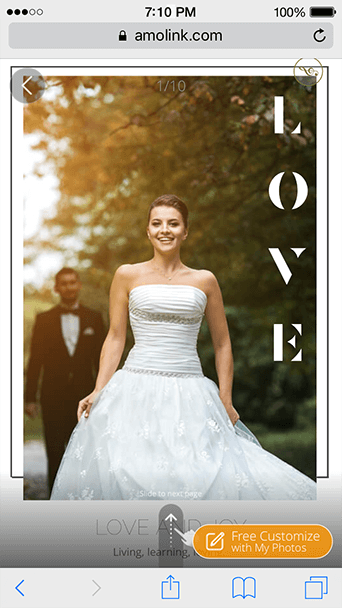 Step 2: Personalize It
Tap on Free Customize icon, and upload your own photos.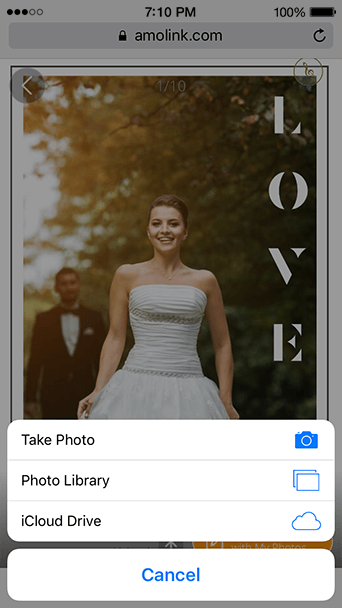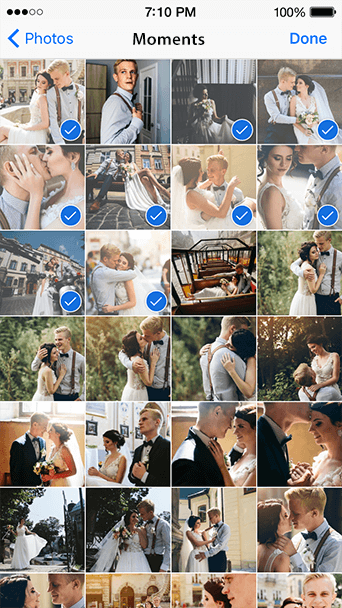 All the photos you select will be filled into the template, and a photo slideshow with music will come out automatically like below.
Step 3: Get It Done
After you finish above steps, don't forget to save and share your fantastic creation. AmoLink offers multiple channels to share your photo show, including social media, URL, email and QR code.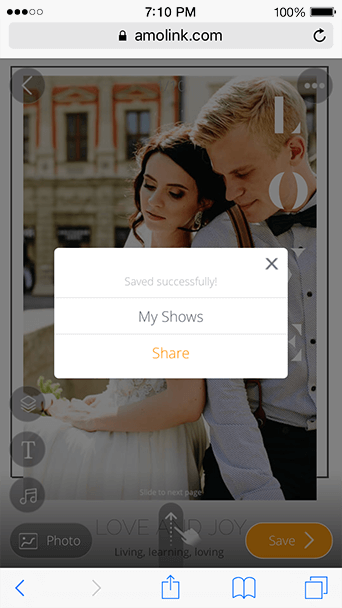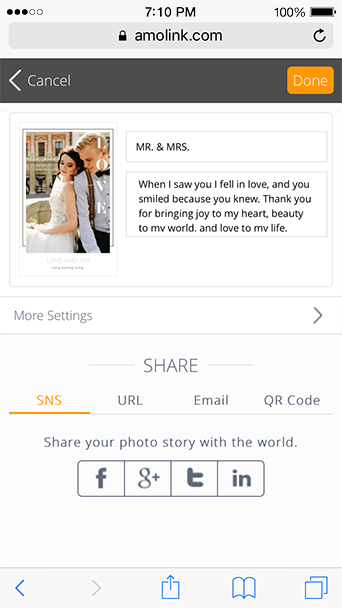 It's just done! Once I even made a funny birthday photo card within 30 seconds. Amazing, right?
Notice:
All the sections in the template can be changed as needed, such as the template, text, music and photos. There're four icons for you to add more personal touches to your photo slideshow.
1. Replace the template. If you find the template you firstly chose didn't work well with your photos, just replace it with the one you like.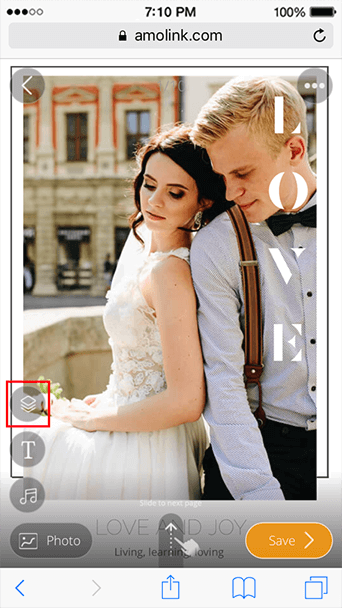 2. Change the text. For each page of the photo slideshow, you can edit the text easily as follows.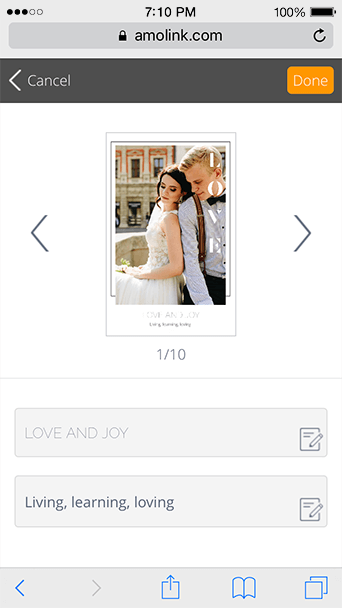 3. Change the music. If you don't like the background music, you can select from our music library or upload your own music. Please make sure the music you upload is copyrighted.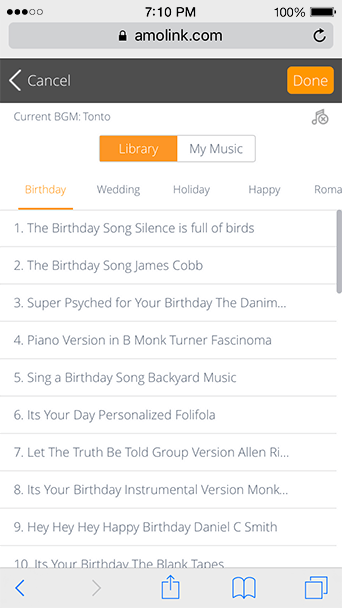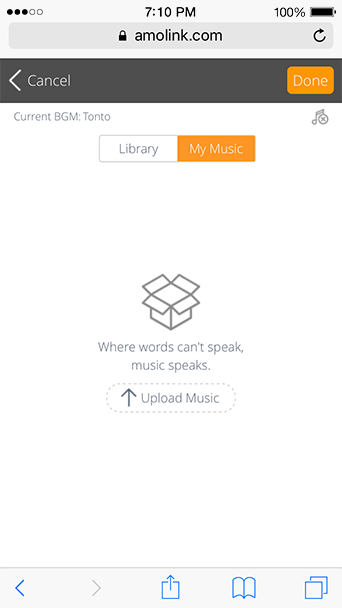 4. Add more photos. If you want to add more photos, just tap on the Photo icon. Then you can upload more photos from your mobile phone. Besides, you can tap and drag to change the order of photos. Moreover, you can also choose free images from the Photo Center of AmoLink.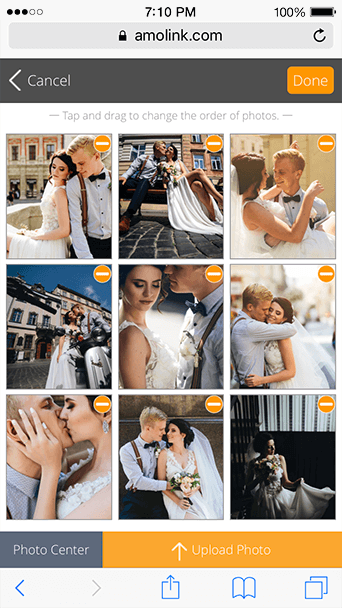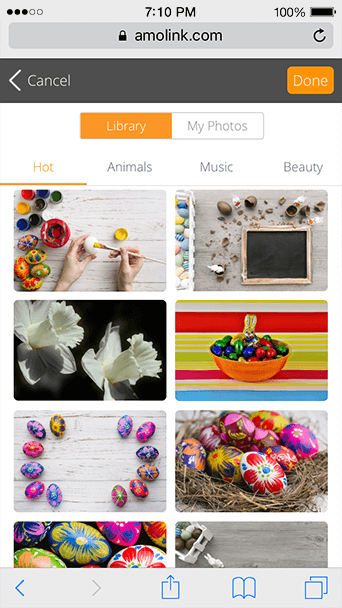 Tips:
1. All your photo slideshows are kept in "My Shows", and you can find it in the navigation bar on the top-left hand corner of the screen.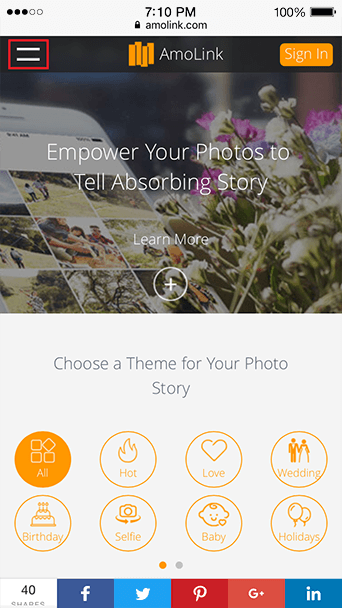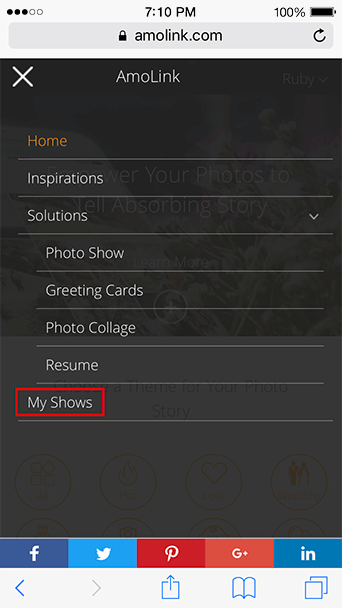 2. You may find that there's an Publish button, what's this for? For each of your design, you have to publish it before sharing it with others. If you make some changes to your design without publishing it, only you can see the changes you've made and other viewers can only see the previously published one.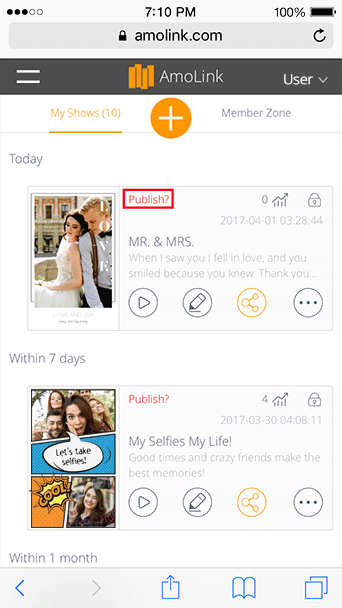 3. The advance edit on mobile is not available yet, you can visit the website of AmoLink on computer to edit more.
4. If you want to start from scratch, you need to enter to the page of My Shows.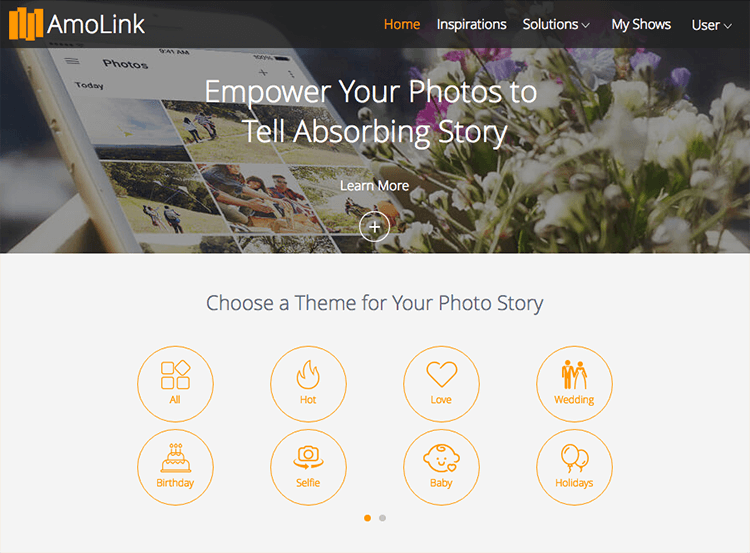 Click on My Shows on the top-right hand corner of the screen. Then you can see the page as below. Click on the marked button.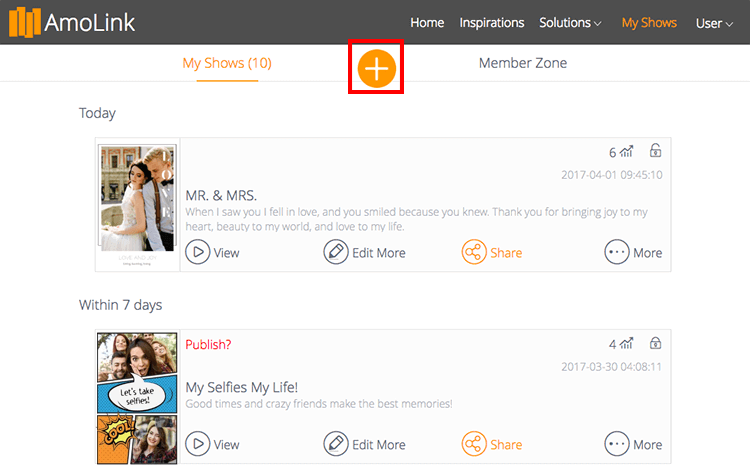 Then you can see the page as below, click on the New Blank Template.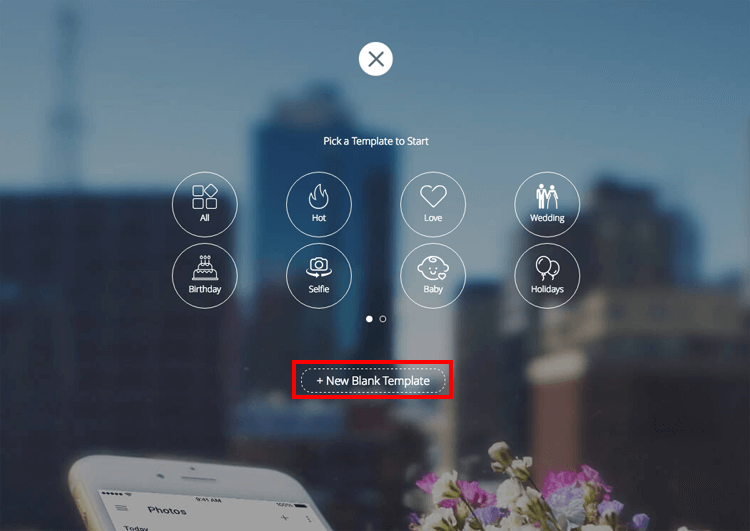 Now, it's time for your creativity and imagination. The blank canva is under your control, you can design your unique photo show as you want.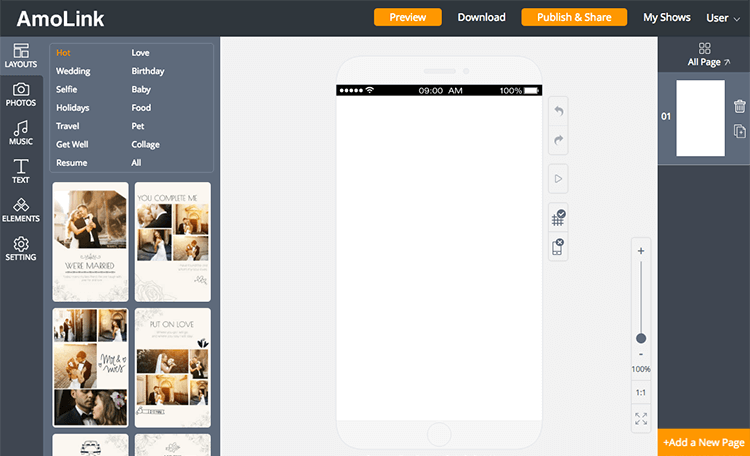 By the time you read this, you may wonder is AmoLink Photo Show a paid service with such powerful features? Absolutely no! It's totally free for basic users. Of course you can update to premium users if you seek for more privileges. What's more, you don't need to install any software to run this photo editor, for it's a kind of web application. So as long as you remember www.amolink.com, you can create a beautiful photo music slideshow simply with a link. I believe you'll love it as I do, just have a nice try.