Share New Style of Baby Greeting Cards with You
2016/09/27 | By AmoLink |
Design Elements
Summary: AmoLink recently updated a bunch of greeting cards for babies and kids. Make full use of the features of these layouts provide, and create your very own baby greeting cards, share the best memory with your friends and family.
The most talk-about stories by parents must be the grow-up stories of babies. Now, let's take a look at the latest baby-themed layout by AmoLink. Hope these baby greeting cards templates can help parents create lovable card stories to record and memorize every beautiful moments of their babies.
Here are the latest baby greeting card templates from AmoLink.
Wanna create a greeting card for your little family? Then you can try out this baby greeting cards template.
This is a warm and loving home template. To start with, the card design is pinkish, a little touch of romance. The adding a baby cute photo and family picture and heart shape, brings out the cozy family atmosphere. Wanna bring more light to your project? Then add a simple text introduction, and funny cartoon stickers, which will bring out the emotion behind every pictures. At the end of the project, remember to insert a family photo of high-resolution. Your friends will sure be affected by the loving atmosphere of your family.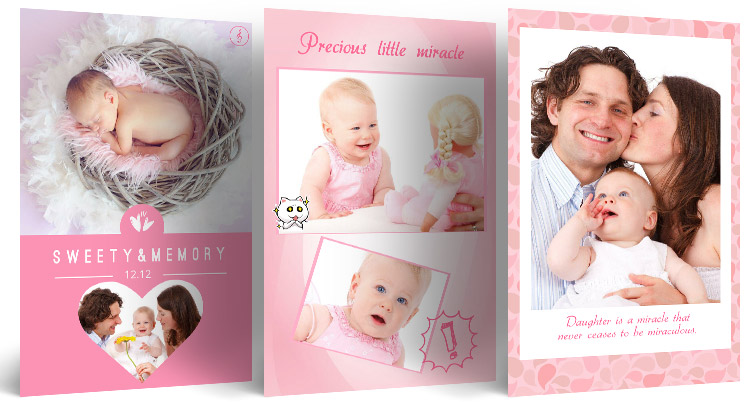 Holidays are the favorite of kids. Wanna record and share the looks of the kids in different holidays? Why not try this Christmas cards for kids template?
The main color of this templates are red and green, which are most seen or associated with Christmas. Take pictures or videos of your kids enjoying Christmas, then use the template to create every happy moments of your Christmas.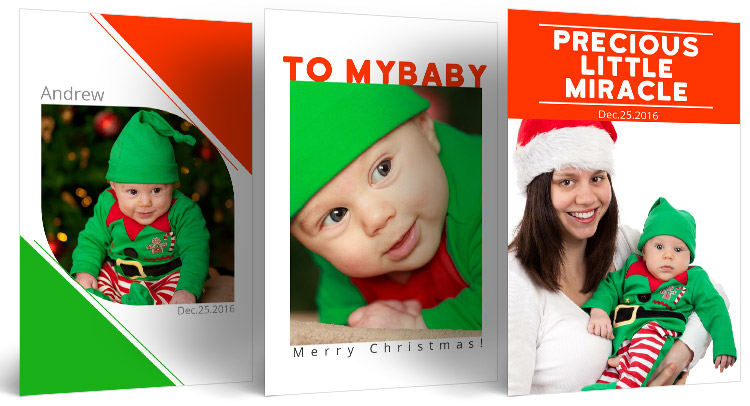 Except from other two templates, you can try out other baby greeting card templates. Every templates has its unique feature, such as animation or layout, etc. You are believed to find the one template you want. Come and create baby greeting cards with the latest templates by AmoLink. Follow the tutorial. Just upload the pictures of your baby or kids, then drag and drop, change the text, add some music or video, you will have a unique and creative baby greeting card. Move your fingers, and wider your imagination, you will sure create your own baby greeting cards!