Best Christmas Cards Online Maker 2016
2016/11/11 | By AmoLink |
Design Inspiration, Design Trends
Summary: Another Christmas season is around the corner. Are you in trouble of the Christmas greeting idea again? When it comes to the Christmas greeting or gifts, most people would choose to send a Christmas card. But have you ever thought that what kind of Christmas cards are the best? Do those cards really show what you are thinking about and bring your best wishes to your friends?
Christmas, in memory of the birth of Jesus, is observed on the December 25 among billions of people around the world. People usually share a special meal with family and decorate the house with Christmas trees and lights on Christmas Eve to celebrate this annul festival. And also, the gift-giving and the exchange of Christmas cards are traditions of Christmas Day.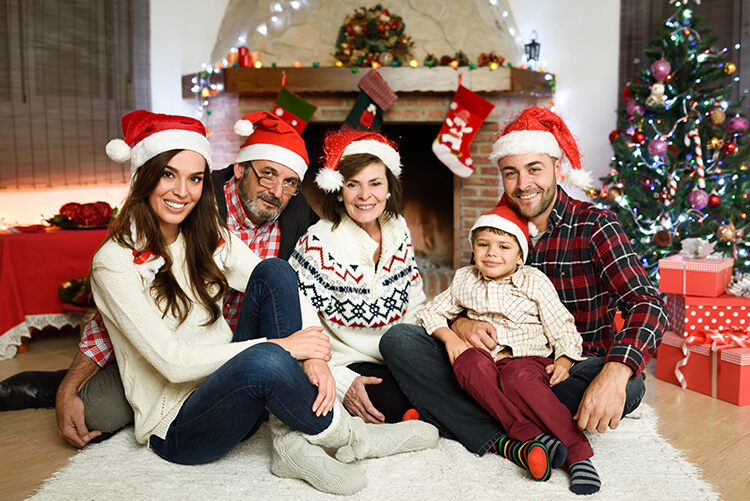 Christmas Paper Cards or Christmas Cards Online?
Nowadays, paper cards are a little bit outdated in the Internet Age. Usually, you just write down some common Christmas card sayings, for example: "Merry Christmas!" "Best wishes for a happy New Year". It's obvious that you spend little time on design, which might leave an impression to your receiver like "well, just another card". Yes, you have other choice. E-Cards. Click some websites, such as Peperlesspost. You can send your friends all kinds of greeting cards. And compared to paper cards, Christmas cards online are more environmentally friendly than paper cards. More important, with the help of electronic information transformation, e-cards can be easily shared and forwarded through the email and social media. But they also have their own drawbacks. For example, Christmas cards online lack of creativity and they cannot completely express your real thoughts, which leads to the common scene in network- you are drifting apart with some people.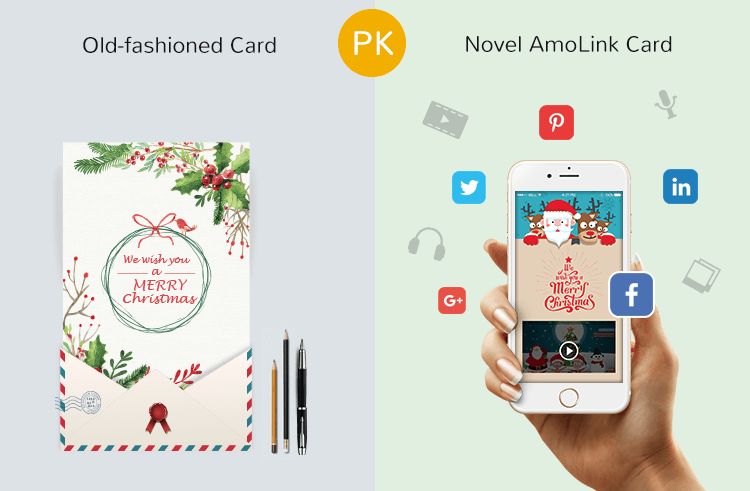 Paper cards are no longer the main trend. They cost more money and take a chunk of time to do. And for younger generation, social network sites such as Twitter, Facebook, is the main way to communicate. So, is there really no way can solve this problem? You know what, there is something not only expressing our mind, but also showing the convenience of network, as well as breaking through the limitation of traditional Christmas cards. That is AmoLink.
Why Choose AmoLink?
Have you ever heard of it? Whether or not, you can try it. AmoLink can help us to create a personalize Christmas card. And you will realize the advantages of it while you using it. Our work and life have inextricably tied to the mobile phones. And it is AmoLink that takes this situation into consideration. You design the cards on the AmoLink web, but in the end your work will be showed perfectly on mobile. This is more convenient and more befitting to open and view the cards in social situations. Of course it is not limited to this. For people who like to take photos or selfies, you can also use AmoLink to create Christmas photo cards, which is a fun way to preserve happy memories. And if you know about H5 technology, you will find that AmoLink makes a great use of the new H5 technology, which fuses music, recording, video and other multimedia perfectly. When your friends receive it, they can listen to your warm greeting and feel deep love from you.
Moreover, novelties always grasp people's attention, and good things win the heart of everyone. When you choose AmoLink to express your best wishes to your friends, they will totally be surprised and amazed. It is really very cool, isn't it? And it is also a novel way to send holiday greetings.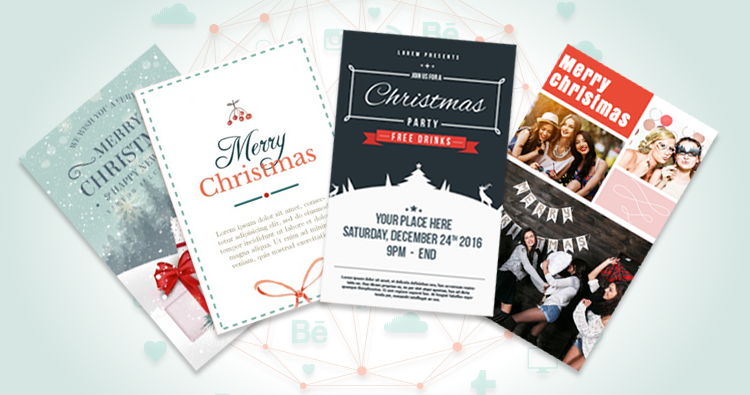 How to Use AmoLink?
Once you try it, you can deeply understand how good it is and know what is the difference between AmoLink and other websites. So how to use AmoLink to create a personalized Christmas card? Let me tell you now.
Firstly, you need to select a layout that you like most.
Then, you need to write down your Christmas quotes. If you don't know what to write in a Christmas card. Don't worry about it. AmoLink provides lots of Christmas card sayings for you. You don't need to scratch your head and wonder what to write anymore.
Next, upload your own photos to AmoLink. A Christmas photo card shall be impressive and unique. If it is not that compelling, you can try to record a warm voice or upload an interesting video. Moreover, you can add background music to optimize your card.
The last thing you need to do is to share it with others. There are many flexible and different ways to share your Christmas card. For instance, you can share your work via Facebook, Twitter or simply send it through WhatsApp, messenger, text message etc.
Creating Christmas cards with AmoLink to show your care and love. And you completely don't need to worry about whether your card will be the same with others. So, what are you waiting for? Let's make a difference to this Christmas!