Create Online Multimedia Greeting Cards
2014/04/08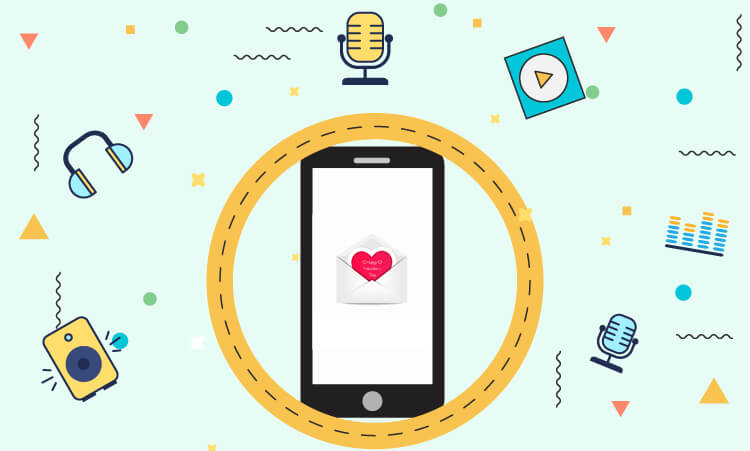 Integrate music, pictures, sound, video and dynamic effects to create your own free animated greeting cards in minutes just by simple editing in AmoLink! And also you can send with a link to your family, friends, partners or customers, they can handy browse your wishes with their mobile phones as soon as possible.
What is Multimedia?
Multimedia is the content that uses a combination of different content forms such as text, audio, images, animation, video and interactive content. Multimedia uses computers to present text, audio, video, animation, interactive features, and still images in various ways and combinations made possible through the advancement of technology. By combining media and content, those interested in multimedia can take on and work with a variety of media forms to get their content across. Multimedia can be accessed through computers or electronic devices and integrates the various forms together. One example of multimedia would be combining a website with video, audio, or text images.
With the development of Internet and technology, people begin to apply multimedia into various aspects, including electronic greeting cards making. Nowadays there are many websites and online greeting card maker that put multimedia into their processing of greeting cards design.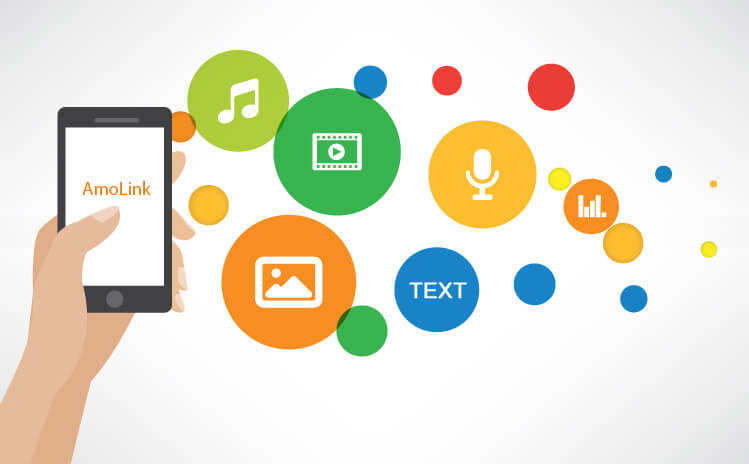 Examples for Multimedia Application in Greeting Cards
Electronic greeting cards have gained popularity in recent time, with lots of web sites coming up with a wide range of flash based greeting cards and making it very simple for the user to select a card of their choice and occasion and then send it to the recipient on their email address, electronic greeting cards get more and more popular. I believe you must receive such electronic greeting cards not only embed with simple word wishes or pictures, but also music, video or even sound. In such a modern and Internet era, we can see quantity of free online greeting cards with music, photo greeting cards, greeting cards with sound, free video greeting cards provided by a lot of websites. Those web sites offer cards for all different occasions and different styles. Sender can add a personalized message to the card. We can send video or music greeting cards to our friends and family during festivals and other occasions like birthday and marriage anniversary. Like the animated happy birthday cards with music, the moment the receiver opens a card, some music will play out to surprise you. As we are familiar with, birthday music cards mostly have the traditional song- Happy Birthday to you. We can send photo greeting cards in Valentine's Day, the personalized photo greeting cards are sure to touch your beloved in a unique manner as these incorporate a photograph of your happy moment. Therefore, this will surely help your lover to treasure your Valentine's Day gift for an elongated period of time. More to this, he or she will also appreciate your uniqueness and ingenuity.
Out of a variety of reasons, multimedia got wide application in greeting card field.
What is Different in AmoLink?
We can see and design video, music, sound, photo greeting cards respectively in many free websites, but it's difficult for us to find an online greeting card maker to combine all of the multimedia functions together to make vivid and special animated greeting cards. Fortunately, AmoLink is just a right one. AmoLink new style of greeting cards let you personalize your greeting cards by integrating music, photo, video, sound and dynamic effects together in the whole card design, fully showing what you see is what you get.
AmoLink Happy Birthday Card Template
Advantages of Multimedia Integration for Online Greeting Cards
As we can see, single music card, video greeting card, sound card or photo card still can't meet needs of people in such a booming time of Internet, we need more special ways to communicate and connect with each other, we like life full of humor and fun, we like our expressions full of vigor and vitality to make our loved ones smile.
Based on this idea and principle, AmoLink wants to make a new style of greeting cards for people to greet with each other. Combining all of the multimedia functions-music, video, sound and dynamic effects together into the whole card design, which can make your greeting cards design come to life. When the recipients click the link you send, vivid pictures, lively images, sweet wishes, funny video and so much more will give him or her big surprise. Not single words or dull static images, but dynamic and energetic slideshow or animations, which just like that you are beside him. In AmoLink, multimedia gets the full application, except it runs through the greeting cards design, as well it gets exactly applied in other fields, including galleries, slideshow, presentations, posters and any animated visual contents.
AmoLink Keep Love in Your Heart Templete
Simply Add Video, Pictures, Music and Sound to Your Card Design
In AmoLink, it's very easy for you to add pictures or photos, video, music or sound to your card design.
For pictures, just need to click pictures in the left-hand navigation, then you can choose pictures you like from the category provided by AmoLink, or you can upload your own pictures from computer.
For sound, choose to record and save your voice, then you can click to change sound icon and finally apply your sound.
For music, upload your own music from computer only support .mp3 .wav .wma .wmv .mid, then click to change music icon and apply your fond music.
For video, add the YouTube video by pasting the URL in the specified place, then you can apply it.
Below we take sound for example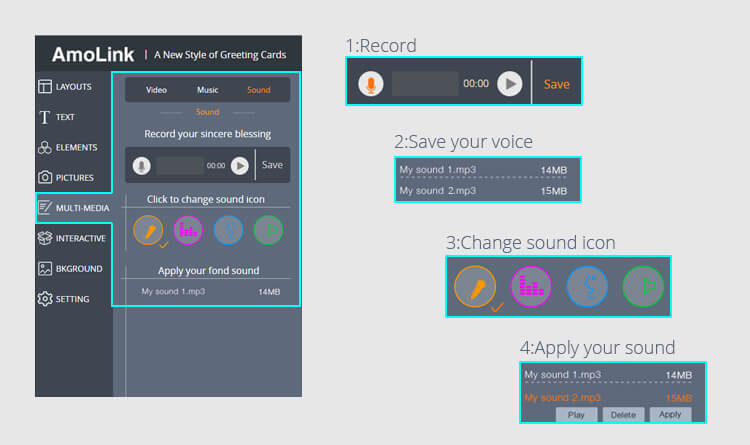 After finishing your design, you just need to send a link to your family and friends, which can get real-time interaction between you and receivers when they browse your work. AmoLink will give you detailed feedback about how many guys have already viewed your card design. Sum up for all, AmoLink free greeting card maker not just can help you add some warmth to your relationships but also help you by saving your time, money and effort. We are not just a link, but await you to find out more here! To see is to believe, start your card design.